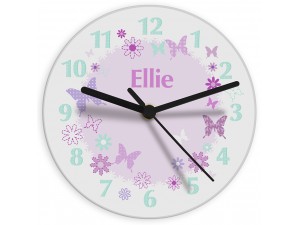 Personalised Butterfly Clock
Product Code: YWDP080711
Availability: In Stock
Personalised Butterfly Clock
Personalise this Butterfly clock with a name upto 12 characters.
Battery not included, requires 1 AA battery.
Material is Glass

NOTE: Due to the font type used please refrain from using all capitals in your personalised message. If the message is all in capitals you will find the personalisation extremely difficult to understand and may even result in personalisation being missed off the product. Many thanks for your cooperation

Ideal for Mothers Day, Birthdays, Housewarming.
Warning: please double check your personalisation as how it appears here will be how it appears on the product, including spacing and punctuation. Please do not include accents and special symbols as some of our processes will not allow this. This includes accents above and below the alphabetical or numerical text.
Write a review
Note: HTML is not translated!
Rating: Bad Good
Enter the code in the box below: